ул. Františka Kadlece,

Praha 8
Коммунальные услуги:
37
EUR
Параметры
Планировка: Студия с выделенной кухней
Площадь: 25 m2
Терраса: Нет
Лоджия: Нет
Балкон: Нет
Этаж: Цокольный этаж
Лифт: Нет
Обставлено: Да
Описание объекта
Available immediately! We offer you a newly renovated apartment in -1 floor in Prague 8. The room is an area of ​​20 square meters with all equipment. Double bed, small kitchenette with el. two hot plates, microwave, dining table and cupboard. Toilet, shower, washing machine and sink line is located directly across. The owner plans to connect water to the room with a sink at the kitchen and add more comfort to the apartment. In case of interest, it is possible to move in before this small reconstruction, which will last a maximum of 2 weeks. Everything is by mutual agreement. The apartment is available from 1.9.2020. Tram and bus few minutes from the flat. The apartment is ideal for one person or a couple. I highly recommend a viewing. The rent is CZK 10,000, fees CZK 1,000 (CZK 1,300 for 2 persons). Refundable deposit of 11 000 CZK plus commission RK. Attention, a great advantage for potential tenants is that the apartment is under the professional management of Bohemian Estates, which manages the owner of the apartment. Tenant is available to contact person who deals with all matters related to the lease (maintenance, payment of the rented, billing, amendments, etc.). Tenants are thus ensured smooth use of the apartment with full service.
360° Foto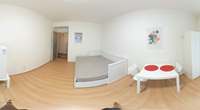 Спрос
Reconstructed cozy 1 + kk apartment in Libeň
332
EUR
/ Месяц
Коммунальные услуги:
37
EUR
Kateřina Krištofová
+420 778 704 852
katerina.kristofova@bohemianestates.com