Коммунальные услуги:
55
EUR
Параметры
Планировка: 2 комнаты с встроенной кухней
Площадь: 52 m2
Užitná plocha: 52 m2
Терраса: Нет
Лоджия: Нет
Балкон: Нет
Этаж: 5-й этаж
Лифт: Да
Обставлено: Частично обставлено
Описание объекта
Exclusive offer of a brand new, luxuriously finished 1BED apartment with an area of 52sqm (5th floor) situated in a very quiet and very accessible location in Prague 2 - New Town, Dittrichova street. Orientation is E/W. The unit is equipped by new custom-made kitchen (white) with Via Latea granite top and high quality Bosch appliances, Bosch washing machine and dryer (combined) in the utility room, wardrobe in the bedroom located towards quiet courtyard, modern tiled bathrooms equipped with high quality Grohe and Laufen products, heating/cooling system under fishbone timber flooring and ceiling, new historic Zahna tiles (Alt Görlitz pattern) in the foyer. The apartment is finished to a really high standard - Grohe / Laufen sanitary, wooden floor, beautiful windows, high ceilings (3m). The location is fantastic, very quite, but right next to thr river Vltava, several weekly markets (100-200m), restaurants 1-2 mins from the metro/TRAM. The courtyard is very quiet. In the two commercial shops in the building will be one high end cosmetic salon and one interior design shop. Long term rental welcome. Service charges are 1.500czk + electricity and gas consumption. If you don't want to waste your time, It will be a pleasure to send you a link with a virtual tour to have a complete idea of the property offered (360C tour with video orientation as you wish).
360° Foto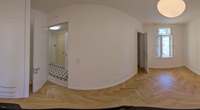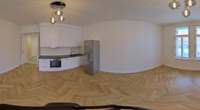 Virtuální prohlídka
Спрос
Luxurious 1BED in Prague 2 - New Town, Dittrichova street
701
EUR
/ Месяц
Коммунальные услуги:
55
EUR
Robert Poppl
+420 608 832 362
robert.poppl@bohemianestates.com