Коммунальные услуги:
111
EUR
Параметры
Планировка: Студия с выделенной кухней
Площадь: 36 m2
Терраса: Нет
Лоджия: Нет
Балкон: Нет
Этаж: 2-й этаж
Лифт: Нет
Обставлено: Да
Описание объекта
Don't want to worry about cleaning, washing and do you want to live in a fully equipped apartment? Exclusive offer of furnished studio apartment situated on the second floor of an apartment house in Prague 5 - Nádražní street, just a few steps from the metro station (line A) / tram Anděl. The total area of the apartment is 36 square meters and consists of a hall, living room with equipped kitchen (fridge, hob, microwave) and a spacious bathroom with washing machine.The rent includes regular cleaning once a week, including bed linen and bathroom linen. In the building there is a reception with English speaking staff (8-20h). The apartment is equipped with a new air conditioning unit. Immediately available. Pets are welcome. Flat service charges are 3.000, - CZK / month (including all fees). Rent is also possible for several months.If you don't want to waste your time, it will be a pleasure to send you a link with a virtual tour to have a complete idea of the property offered (360C tour with video orientation as you wish).
360° Foto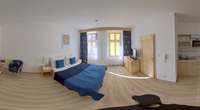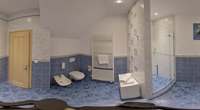 Virtuální prohlídka
Спрос
Fully furnished studio apartment in Prague 5 – just next to metro / tram Anděl
554
EUR
/ Месяц
Коммунальные услуги:
111
EUR
Robert Poppl
+420 608 832 362
robert.poppl@bohemianestates.com